It is with an excited and joyful heart that I invite you to join me for an exclusive meditation retreat deep in the Mexican jungle, at a paradise resort hidden amongst ancient Mayan ruins.
This intentionally curated retreat will bring you back to unsullied, wild nature, and by extension, back to YOU. The REAL you. When you are immersed in the natural world you can begin to feel yourself as an extension of that naturalness, finding a deeper ease of existing and tasting the bliss of your being in the absence of the modern world.
This is a heart offering from me to YOU, an invitation to reconnect deeply with yourself, Mother Nature and a like-minded community of seekers of Truth & Peace from around the world. This retreat is truly a soul adventure, one that invites you to travel inward and outward, as well as the space between. Along the journey, you'll have time, space, and the inspiration of beauty all around you to remember your true nature as Pure, Free, Forever 💙
My intention is to create a safe and welcoming environment celebrating all levels of experience, body types, races, genders and abilities. One that supports and empowers each of you on your journey to RISE in your truth, ILLUMINATE your strength + power, EMBRACE healing and EMBODY your most authentic self on and far beyond the cushion.
My hope is that this unique and intimate time spent in nature inspires individual growth and transformation in symbiosis with deep collective expansion along the way. May this retreat experience guide each of us to RETURN TO OUR TRUE NATURE THROUGH NATURE. May we recognize the all-permeating sat-chit-ananda (existence-awareness-bliss) within and without. May it remind us that we are indeed one- with each other and the world around us.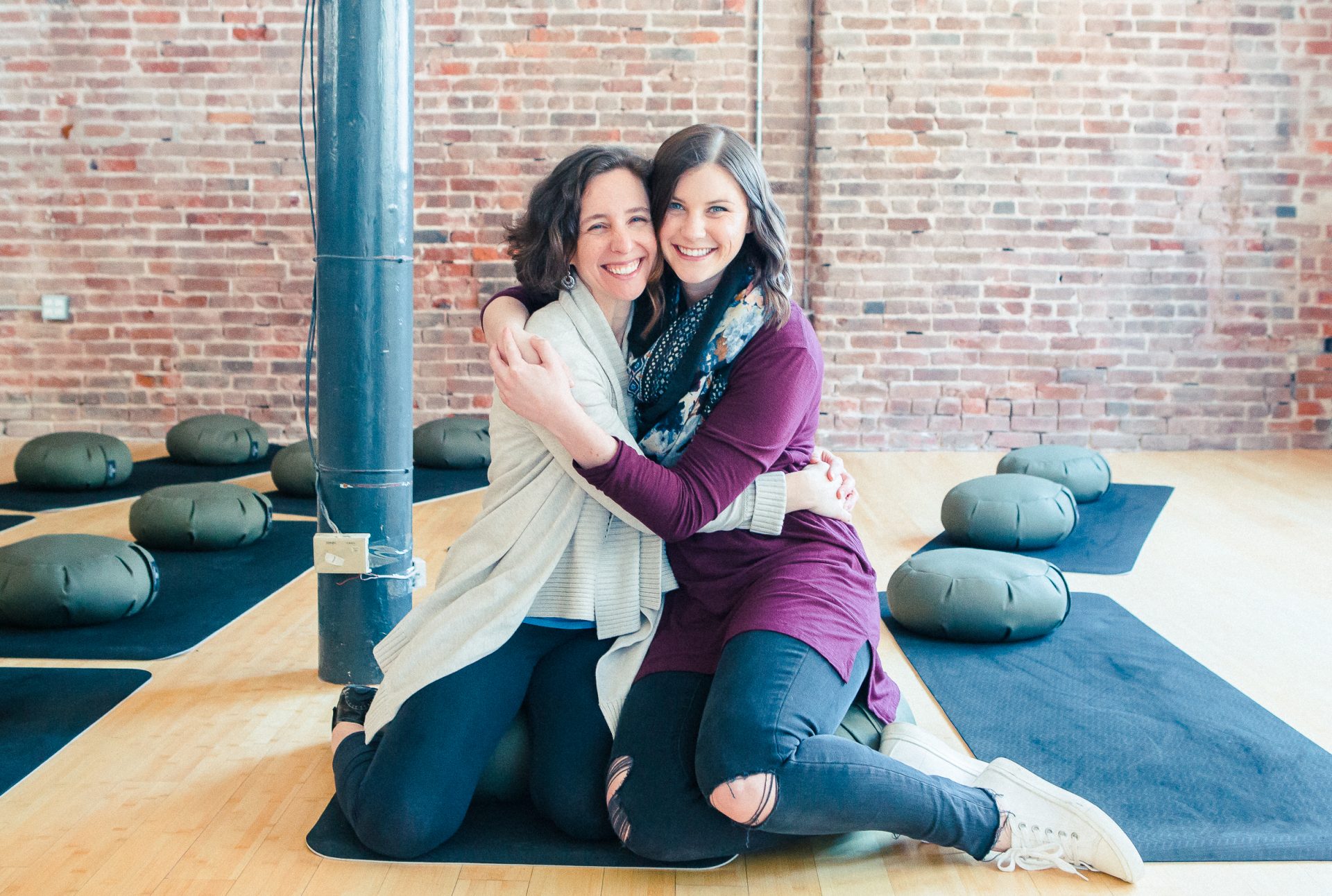 WITHIN Around the World Retreat invites you to explore, expand and connect to your True Self, present both in movement and stillness.  With just the right blend of activity and down-time, this retreat is a unique infusion of unforgettable, one-of-a-kind, life changing experiences immersed in nature, in union with truly heart expanding and deep healing experiences within.
Beyond daily breath work practices, meditation, or movement offered throughout the retreat, you will be guided to LIVE YOUR MINDFULNESS off the cushion through transformational adventure and nature inspired experiences in the sacred land of the Mayan people.  We will connect to the state of fluidity and healing of water by immersing ourselves in various Cenotes within the jungle, and on land through additional adventures including:
Exploring the UNESCO World Heritage site, Chichén Itza

Tasting traditional cuisines and exploring local artisan markets

A cooking class in a local home inspired by traditional Mayan dishes

Experiencing a Temazcal (sweat lodge) ritual 

Sharing a traditional Cacao (cocoa) ceremony
7 days / 6 nights private or shared room accommodation – one night in Merida, and 5 nights in private or shared room at our beautiful Okaan Resort near Chichen Itza

Shuttle around Merida, as well as first night dinner in Merida

Shuttle to Okaan with a lunch at

Izamal, which is half-way between Merida and Okaan resort, to explore the town and ruins there.

Twice daily (sometimes 3x daily) guided meditation practices

One-on-One with Devon to set your intention for the retreat

Private Tarot reading with Devon 

Cooking class/lunch in a local home inspired by traditional Mayan cuisine

Three delicious locally inspired meals daily including filtered water/coffee/tea/fresh juice

Visits to swim/snorkel at 3 notable freshwater Cenotes "swimming caves"

Temazcal ceremony

Traditional cacao ceremony

Day-long meditation retreat

Exploration of Chichén Itza, ancient Mayan ruins

Airport pick up/transport to resort

All transportation between the different activities

Entrance fees to all visited venues including tips for specialized local guides

Professional/high quality photos documenting various parts of the experience on land/in water by ou

r

personal retreat photographer 

Gift bag
Flights
Additional meals and alcohol
Spa services
Extra excursions
A seeker of Truth and a meditator since 2002, the practice has been deeply transformative for her.  Devon spent four consecutive years (2013-2017) in constant study and practice of Advaita (non-duality) philosophy and meditation. Sitting at the feat of a Realized Master in the Himalayas of northern India, she had the rare opportunity and time to ask questions, challenge every single belief she had, and investigate thoroughly not only the nature of consciousness but also the key to living free of suffering.  
​
Meditation is Devon's passion and purpose.  She is a teacher and blogger for withinmeditation.com, who also works with companies via wellness workshops, guided meditation sessions, and mindful communication coaching.  You can also find her as a featured voice for Hyperice's meditation training device Core, as well as a senior instructor on the Core app (hellocore.com).
​
Simply put, whatever level you are at, she can assist you to go deeper.  For beginners, she is equipped with varied approaches to meditation, as well as tools to employ when it seems you are having difficulty meditating.  For those established in their practice, she offers a deepening and maturing of that state which is constantly available even while not meditating, through the examination of what meditation really is. Everyone, regardless of experience, can find a definitive answer to the question "Who am I?"  through the process of guided self-inquiry.  No matter your experience, her approach effectively reduces stress and promotes well-being.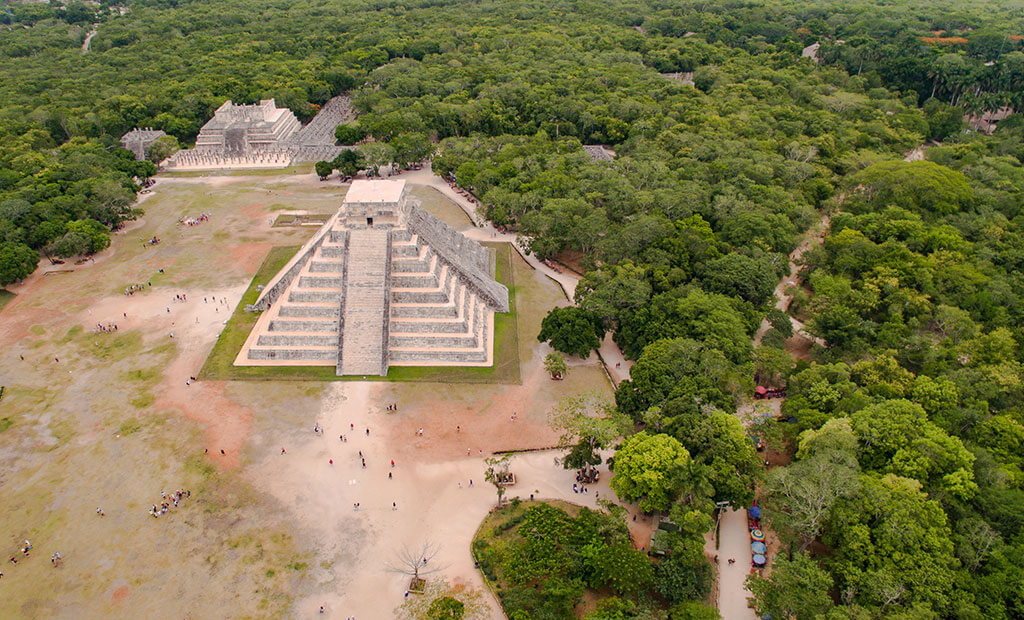 Chichen Itza
The most populous city during Mayan times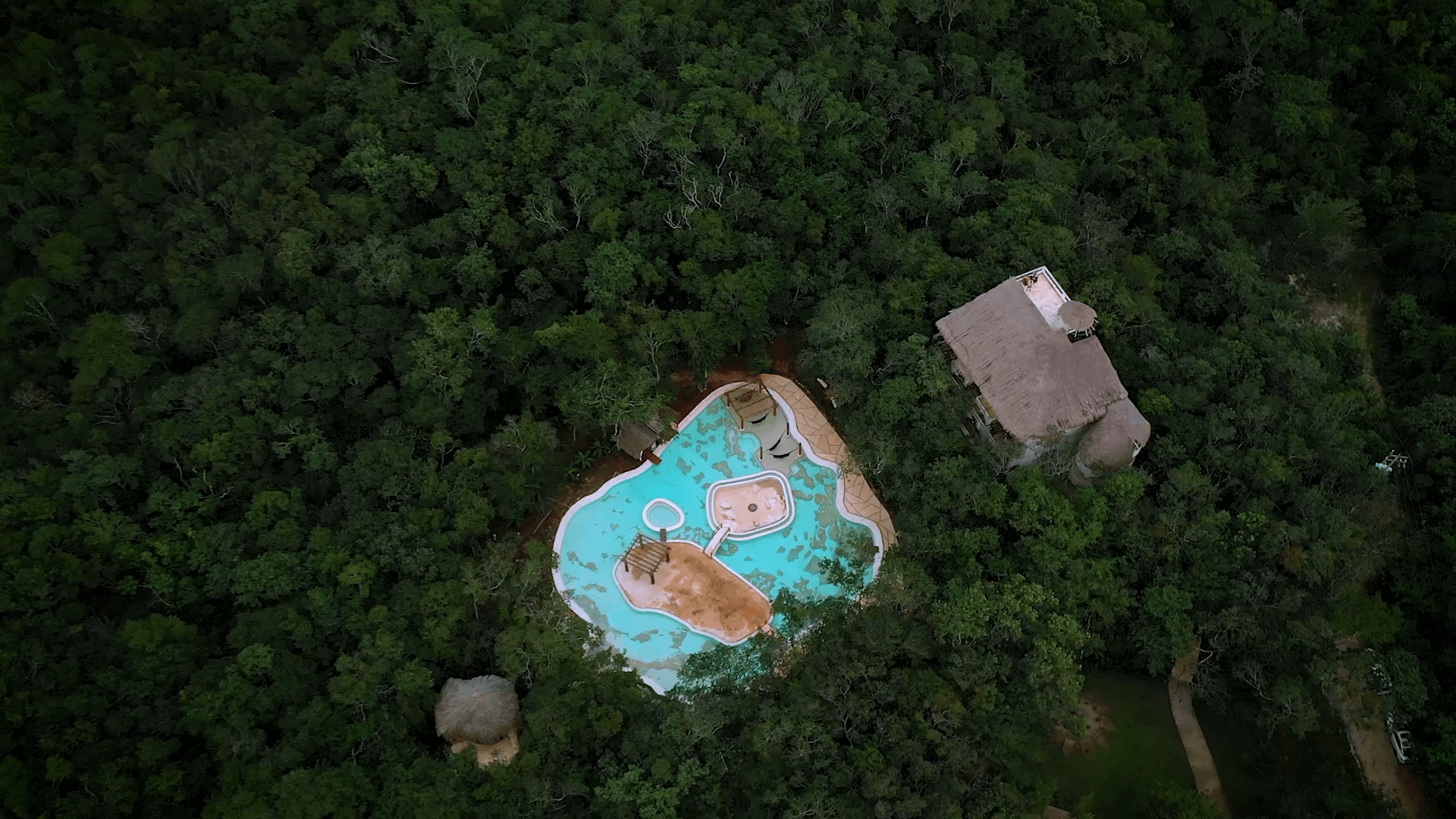 Okaan Resort
Okaan will be our main hub for visiting the beautiful Cenotes, the majestic Chichen Itza and allow us to re-center and calibrate for this beautiful holistic retreat.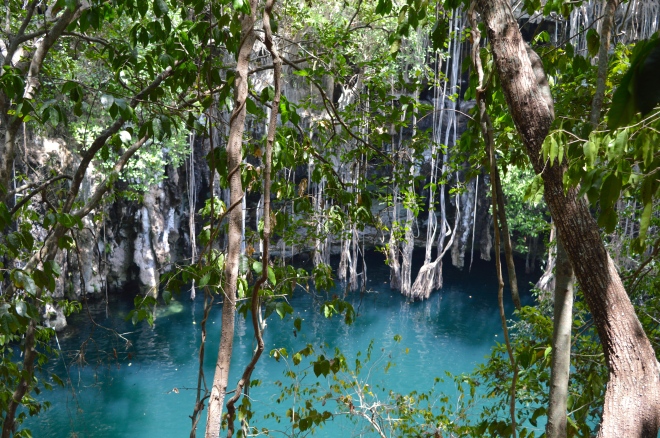 Cenotes
Fresh water cenotes in the Yucatan Peninsula jungle. Privatized visits to create the perfect setting for meditating with the energy of the earth
WEDNESDAY 1: ARRIVAL IN MERIDA
This "WITHIN Around The World" adventure begins in beautiful Mérida, the vibrant capital of the Mexican state of Yucatán, which has a rich Mayan and colonial heritage. The city's focal point is Plaza de la Independencia, bordered by the fortresslike Mérida Cathedral and white limestone Iglesia de la Tercera Orden, both colonial-era churches built using relics from ancient Mayan temples.  A driver will pick you up from the airport and the shuttle will bring us all to our hotel.  We will have time to meet and connect, visit the local artisan market for some shopping, see some sights, and then we'll enjoy our welcome dinner at the hotel.  We will come together for a relaxing evening meditation, then get some rest after travel.  We will spend the first night here.  
THURSDAY 2: A DAY OF GROUNDING AND CLARITY
Today we will be shuttled to Okaan, a beautiful resort located in the middle of the jungle. Make sure to check out the sky deck once we arrive. You can see a sneak peak of Chichen Itza (Mayan ruins) on a clear day. On our way to Okaan we will make sure to take a quick pit stop in the beautiful town of Izamal for lunch and have the opportunity to explore the ruins and architecture there. Upon your arrival to Okaan you will have time to settle into your space, meet your retreat roommate if you have one, explore the resort, relax and unwind. We'll come together in the evening for our welcome dinner where we will discuss the itinerary and details about the incredible week ahead. Each participant will have a one-on-one with Devon. 
After dinner we will have our welcome circle ceremony where we'll discuss the meaning of retreat, share our intentions, and meditate together in paradise. 
FRIDAY 3: A DAY OF COOLNESS & COMFORT: CENOTES AND TRADITIONAL COOKING CLASS IN LOCAL HOME
Our first full retreat day will consist of morning meditation and a traditional cacao ceremony. 
After breakfast we will invigorate and integrate ourselves by swimming in a breathtaking off the beaten path Cenote "swimming caves" hugged by deep green and lush foliage of the jungle.  Here we will all take time to pause and meditate inside the beauty of the earth around us. Take time to relax, swim and be one with nature.
Following our cenote adventure you will have the unique opportunity to learn how to make traditional Mayan inspired dishes during our private cooking class inside a local home! Here we will learn how to make dishes such as: Salbutes, Pinochos and then enjoy our culinary creations together before heading back to Okaan Resort.
Upon returning from the day's adventures you will have time to decompress, relax, journal and reflect on your experiences and explorations.  After gathering to enjoy another yummy, freshly prepared dinner, we will have our evening circle, where we will chant, meditate, and have satsang (sharing the knowledge of truth) before we go to bed.
SATURDAY 4: CENOTE, TAROT, & TEMAZCAL RITUAL DAY. A DAY OF EARTH AND WATER
After a nourishing breakfast, we will head off to explore and swim at the Yokdzonot cenote, where we will again all take time to pause and meditate inside the beauty of the earth around us. Devon will guide our morning meditation here as we take time to relax, float, and be one with nature.  After returning to Okaan, there will be plenty of free time.  Each participant will have the option of receiving a private tarot card reading from Devon. Make sure that you remember to drink plenty of water throughout the day because this evening we are going to embark on a spiritual journey via the Mayan ritual "Temazcal". The Temazcal is a sweat lodge that takes place in a mud hut where lava rocks are brought into the space over the course of a couple hours. This tradition is held to enable you to not only purify your body, but also purify your mind, soul and spirit from the inside out.  After the ritual, we will meet briefly in the circle to share our observations before going to bed.
Sunday 5: DEEP DIVE INTO THE SELF (DAY LONG MEDITATION RETREAT)
By now, we've done enough and seen enough to be ready to let go of the world and turn within.  After a morning meditation, we'll share a silent breakfast, and then we will all gather together to learn the structure of the day-long meditation retreat and to set gentle intentions. 
MONDAY 6: A DAY OF OUTER AND INNER EXPLORATION: CHICHEN ITZA & INNER REFLECTION
We will start the day with a nourishing breakfast, and after that, prepare a day pack equipped with water/snacks/camera/bathing suit/towel etc, put on comfortable footwear, and get ready to explore the ancient ruins of the historical Mayan city, Chichen Itza. Here we will walk and explore the grounds extensively, learning about one of the most iconic civilizations from the past, filled with architectural marvels, expansive history and deep ancient secrets. Fun Fact: In July 2007, Chichen Itza gained recognition as one of the "New 7 Wonders of the World" and is now one of the most highly visited archeological sites in Mexico today. Some notable highlights that we will visit within the grounds of Chichen Itza include but are not limited to:
Temple of Kukulkan

Tomb of the High Priest

La Iglesia

Casa Colorada

Court of the Thousand Columns
After Chichen Itza, we will visit another local Cenote to cool off from the hot sun.  At the cenote, you can choose to meditate by yourself, join a guided meditation led by Devon, or just explore the surrounding area.
When we return to Okaan Resort,  the rest of the day is yours to relax, reflect and do as you please- you may choose to spend time journaling, hanging by the pool, reading in a hammock, connecting to your personal practice, or consider visiting the spa located on the grounds to unwind even more. (Spa services such as sauna, facials, massage and more are available at an additional cost). 
After another group dinner, we will close the day with our evening fire circle.
TUESDAY 7: A DAY OF CELEBRATION AND LETTING GO
After our morning meditation, our last meal will be a large brunch to celebrate all that we've been changed by over the retreat, then we will gather after that for one last circle for a closing ceremony where we'll say our goodbyes.  After that, we'll pack up, and we will all be leaving the resort around noon.
Meals
Breakfasts, Lunches and Dinners throughout the course of the retreat.
Transport
All transport throughout the course of the retreat.
Accommodation
Double Occupancy or Single Occupancy accommodation in Merida and Okaan resort
Included activities
Meditations throughout the course of the program.
Entrances into various cenotes.
Indigenous cooking classes.
Entrances into Chichen Itza Ruins.
Temazcal ceremony
Cacao and fire ceremony